Recently, an important Astros Front Office Exec was asked, "about how many of the Top 30 do you expect to become MLB players?" He said, safely 15.
So, why trifle with guys who have no real future in a Top 30? This is the thinking of most casual fans about prospects.
The reality is this system is so deep that guys who are not even ranked in some Top 50's have a shot someday, somewhere. A few former Astronauts to have made touch down; Jack Mayfield, and Yohan Ramirez. A few on the way -- Bryan DeLa Cruz and Kent Emanuel. Maybe even 2021 Spring Training whiz, who is fighting for his baseball life? It still blows my mind how far he has come since the Astros paid $2,000 for Alex De Goti.
In some ways the mention of these names also accentuates why many have said it is left mercilessly weak. My cursory assessment had Astros #15 in pitching before Whitley went down, and probably dead last in position players at #30. This is due to Astros' aggressive promotions, however, and if you do not add value to the farm by what you are currently getting from its fruits, then it short-changes development's side of the story. Houston graduated or traded or let walk 15 prospect guys alone last year, and also lost Rivera Robinson & Ferguson again in Rule 5.
Instead of expanding it, though, let us pare it down. This will allow for less controversy, more of a Layman's approach and cuts clearer lines in an exclusive group. Here, we will use only future WAR as a guide to simplify.
Spring Report, 2021
#1 Hunter Brown all the makings of a solid frontline Starter with velocity, and sharper breaking stuff. Has shown mixed results & some nerves in his debut that look like outliers. While still early in the process, he is ahead of schedule. Expect a near-polished product this time next Spring. He seems to throw well within himself and has the frame & swagger to be a difference-maker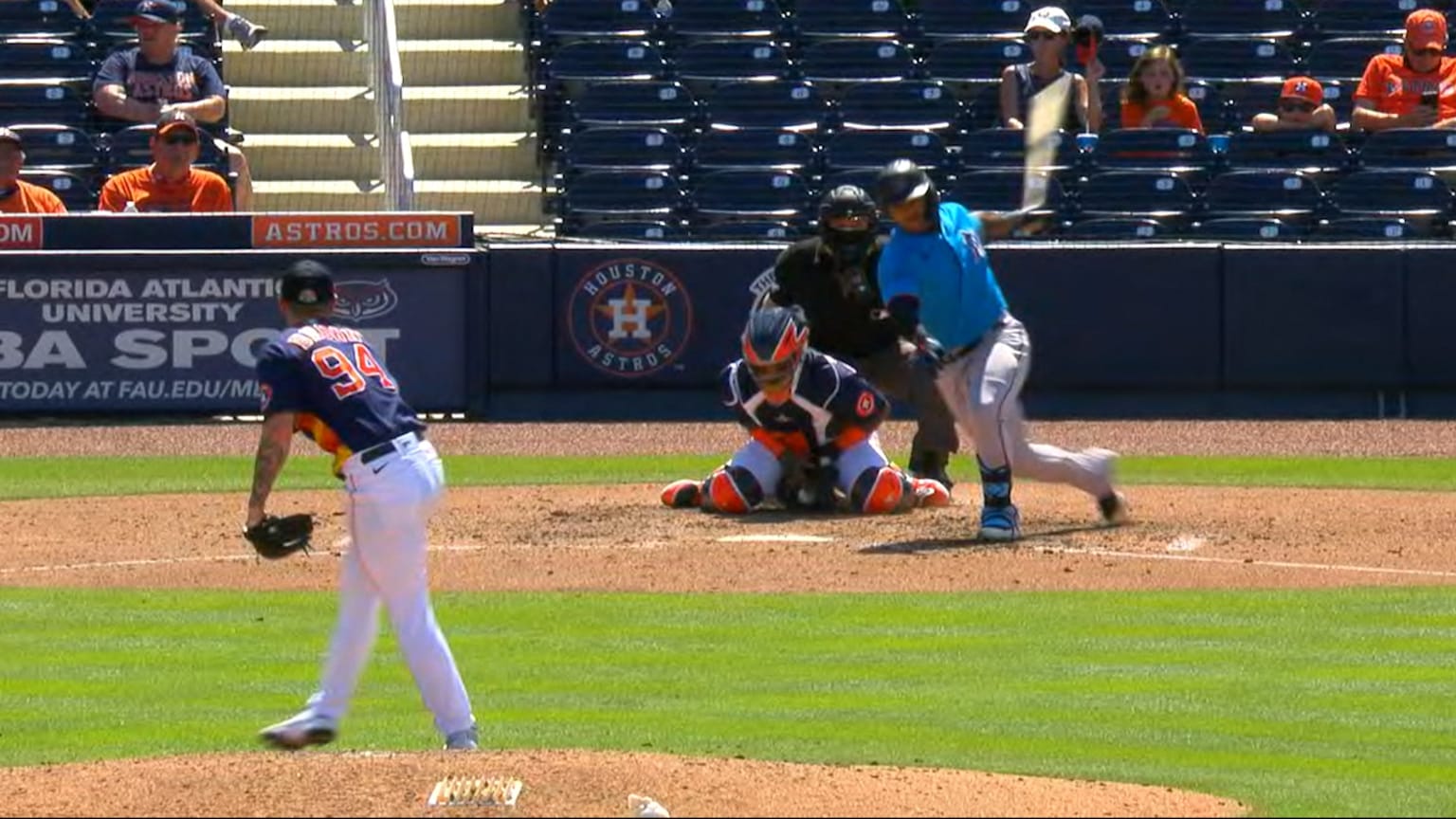 #2 Pedro Leon nobody has ever seen an 80 arm in this uniform. If he hits for average, and is as fast as Straw, then if he under-performs it will be the coaches faults for lack of facilitating his talent. Three months in the minors should be a better barometer, since he's had a layoff of top comps.
#3 Luis Garcia supreme strikeout ability, and solid enough control. The only questions would have been shorter body-sized length, and stamina for the rotation. Those boxes are checked off in this ranking. He can be deployed as a Starting Pitcher.
#4 Jeremy Pena glass of wine in the field, homers off Jacob deGrom to straightaway CF and he will have the entire season to sleep on it. The future is bright.
#5 Korey Lee easy power, rocket arm who "loves to play catcher." MLB trending toward promoting players more quickly and he will be the recipient of that shift by starting / platooning by 2022. He would have a shot this season, but the roster will be too squeezed for his cup of coffee, and he needs consistent offensive reps.
#6 Pete Solomon has the frame and stuff to shoot up the list in his first season back from TJS. (The FABIO has loved his strikeout ability since 2017).
#7 Freudis Nova shown in Spring why the Astros gambled on rostering him instead of trading in years' past. The tools are in play, definitely be fast-tracked to Corpus this year if all goes as planned. Caveat: keeping him on 40-man roster in '22 will be a challenge, and does not project to make 26-man roster then.
#8 Tyler Ivey bottom rotation cinch, fearless strike thrower who comes right at hitters. Had a solid showing in Spring, and will debut in Houston in short order.
#9 Jairo Solis still raw but all the makings of top bill after his successful return from TJS. Parking at 95, dialed to 98. Needs AAA innings to refine and locate. Foreseeable call up before September.
#10 Forrest Whitley undergoes successful surgery, prepares adjustment, paired with the arsenal is still a top 10 talent. By optioning rules, Whitley must remain on 40-man roster in '21, however he does not lose a year of team control iirc..
#11 Bryan Abreu shows signs of being rushed to the major leagues. All the makings of BOR, or hiLev reliever.
#12 Zach Daniels drawing all sorts of comparisons with speed and quick bat potential. Looks like a two-year only minors guy. Way ahead of schedule, diamond in rough of '20 draft.
#13 Colin Barber work ethic, paired with compact power build. Once known as "CF of the future," he will meet resistance from Straw and Leon, while quite beautifully situated by tools and age.
#14 Alex Santos should establish himself firmly in the Top 10 through the season.
#15 Austin Hansen has been on hi alert since Fayetteville, 2019. Astros turned 252nd pick of the '18 draft into electric stuff. (Scout Jim Stevenson strikes again.) Ty Brown should fall into the same category of former Closers who make good. Without the elite frame, he's generating elite results.
#16 Nivaldo Rodriguez one of the best curves in the system, climbs the list out of camp.
#17 Taylor Jones shortens his swing, plays three positions, towers over competition with intellect and hard work. Owing to Astros scouting and development is this 19th round sensation.
#18 Chas McCormick does it on average tools, grit, paperclips & band-aides. Solid defender and offensively "finds a way" everywhere he has played.
#19 Shawn Dubin lights up the radar, seeks consistent innings to ply his trade.
#20 Dauri Lorenzo too much ammo in the clip to keep pinned down.
Of those on the verge of this list, who would you have included as #20 instead; Ronnie Dawson, Jairo Lopez, Brett Conine, or Ty Brown? Sleepers I missed like; R Gonzales, A Macuare, or R Gusto instead?