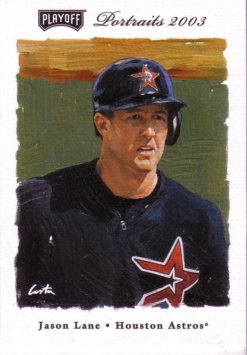 Jason Lane
1 for 4, 4 RBI, 3 Runs Scored
Homer, walk, hit by pitch
Raises his average (heh-heh) to .178
Only second Astro this season with at least 3 runs scored and at least 4 RBI in a single game (Lee)
Most Consecutive Games Giving up 10+ Runs
Streak
Start
Streak
End
Games
R
Opponents
Scores
7/29/2007
8/2/2007
4
49
SDP,ATL
 
L18 - 11, L 12 - 4,
L12 - 3, W12 - 11
5/15/2006
5/17/2006
3
28
SFG
 
L 10 - 1, L 14 - 3, L 10 - 1
7/7/1962
7/8/1962
3
31
CIN
 
L10 - 1, 12 - 8, L12 - 11
Well, he wasn't as good as Ensberg, but it'll do.
Like the extravaganza last Sunday, Thursday night's game was a fiesta for me, and anyone else who loves arcana about the team. Sure, McLemore's first career win (congrats, Mark!) and Moehler's first career save, but also Jenning's first hit in six weeks, his first RBI in 16 months, and his first pinch hit RBI in nearly 3-1/2 years.
On a less rowsing note, the team gave up double digit runs for the fourth straight game, a dubious feat never before recorded in team history. And the 22 hits allowed is one of only nine games in team history where the team gave up as many.
And (please) don't get me started on Lidge. I was cautiously back on board, but I've fallen off again. Shoulda traded him, that's all I got to say.
Other than congrats, Jason, I love it that I don't have to vilify you this morning.