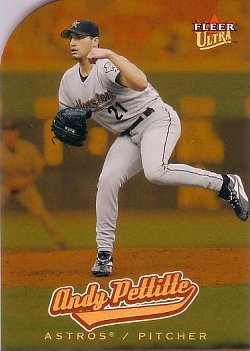 Andy Pettitte
7 IP, 4 H, 1 ER
7 K, 1 BB
71 Game Score
79 pitches, 54 strikes
All of this on three days rest
Would have really liked to have seen Andy collect his 15th win of the year, but some shaky relief prevented that. We should, I suppose be glad that the relief corps. didn't prevent the team win.
Also we should be glad for twelve hits, ending it is to be hoped a short two-game slump.
Live to fight another day is tonight's mantra, I suppose. As it stands right now, it's back to Chris Sampson vs. John Smoltz in our game, and someone named Carlos Villanueva vs. Chris Carpenter in St. Louis.
With the Reds' loss, the Astros clinched no worse than second in the NL Central tonight, and they did clinch the winning record. In fact, most everything has been determined: The Astros will finish last in the league in hitting and fourth in the league in ERA, and they almost assuredly will finish 12th in the league in runs scored.
I suppose that if Lance turns on the power tomorrow, he could tie Bagwell as single season home run champ, but it won't take much to surpass Bags as single season RBI King. And with a big day, could be that Adam Everett surpasses Craig Biggio as second in RBI's on the team.
Beyond that, pretty much everything else has been decided as we enter the last day of the season.
Except the NL Central, I mean.