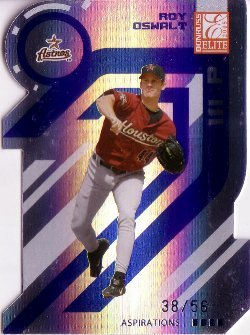 Roy Oswalt
8-1/3 IP, 7 H, 1 ER
3 K, 2 BB
Now third in the League (to Carpenter and Webb) in ERA at 3.06
Second in Quality Starts (to Capuano) with 22
Run support is nice but doesn't invalidate a strong start, and won't keep Roy Oz from the Game Hero trophy he so richly deserves. Once again, he stops a losing streak: today was the seventh time this year when the team has won in a Roy Oswalt start to end a losing streak of two games or more.
Including Royboy in the NL Cy Young discussion is very interesting in once sense, ridiculous in another. Interesting, because you can make a case for him.
Ridiculous, because that case is not one that any voter would champion.
Roy entered the day number one in the league in defense independent ERA at 3.28. Which is amazing, considering the excellent defense that gets played behind him. In other words, the DIPS figure is telling us that Roy has been so good, he hasn't much needed the best defense in the league.
But your average voter thinks DIPS is how you take your chaw, so his advantage in that particular metric is not likely to help him much when the ballots are passed out.
But for your own edification, move on, and take a look at the Quality Starts. Carpenter may have three complete games, but he's only got 18 Quality Starts. Today made 22 for Roy O.
Roy does trail Carpenter in two other metrics. You all know I'm a big fan of the Jamesian Game Score, and Carp's AGS of 60.1 leads Oswalt's average score of 56.6.
In addition, and I guess this is because of Carpenter's incredibly low WHIP of 1.04, Carpenter leads Oswalt in Component ERA, something like 2.64 to 3.16.
I would probably vote for Carpenter myself right now, truth be told. But in no small part because Roy has five tough losses to Carpenter's one (and Brandon Webb's two), I consider Roy to still be a viable candidate depending on what happens during the last three weeks of the season.
Certainly performances like today's won't hurt his case with me.
Win Expectancy Chart
Top Five Astros
Oswalt
  0.169
Burke
   0.108
Berkman
  0.088
Taveras
  0.087
Scott
  0.082

Bottom Four Astros
Wheeler
0.013
Ausmus
-0.023
Huff
-0.125
Ensberg
-0.073
 

Top Three Cardinals
Thompson
  0.059
Kinney
  0.038
Schumaker
  0.013
P.S. As the commercials for the junk fast food say, I'm lovin' it. Pujols' WPA for the game stands at second worst on his team at -.055.
Roy shows it IS possible to get the mofo!