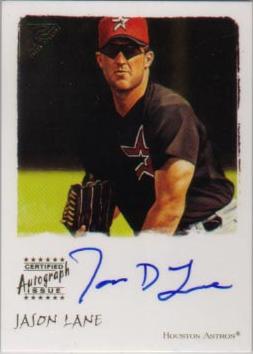 Jason Lane
1 for 1, homer
4 RBI, 1 R
First career major league Grand Slam
Pinch-hit Grand Slams usually get the hardware, what can I say. Lane's salami was the first pinch-hit grand slam since Greg Zaun hit a walkoff version off Byung Hyung Kim (back when Kim was afeared) in the ninth inning on June 27, 2002.
It was the second of the year for the team after CatcherBrad's Tater Royale off Dustin Nippert August 5, in support of the Rocket.
That makes two slams for the month, after none during the first four, if you're keeping track.
Astro Pinch-Hit Grand Slams
Player
Date
Vs. Team
Vs. Pitcher
Inning
Milt May
May 22, 1974
San Diego
Romo
9
Cliff Johnson
June 15, 1975
at St. Louis
Garman
9
Craig Reynolds
April 12, 1986
Atlanta
Mahler
6
Kevin Bass
April 10, 1988
at Cincinnati
Perry
9
Derrick May
September 5, 1995
Cincinnati
Jarvis
7
Sean Berry
June 13, 1996
at San Francisco
Mark Leiter
5
Orlando Merced
July 20, 2001
Chicago Cubs
Lieber
5
Greg Zaun
June 27, 2002
Arizona
Kim
9
Jason Lane
August 29, 2006
Milwaukee
Kolb
8
Lane thus has the only pinch-hit slam in team history to be hit in the eighth inning, or in the month of August, while his is the second consecutive to have been hit off a pitcher whose last name began with the letter 'K.'