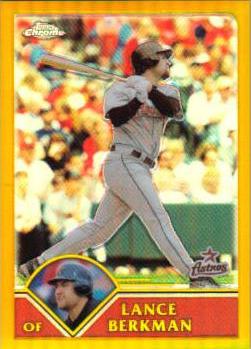 Lance Berkman
3 for 5, 3 RBI, 1 R
Two doubles
Now 12 for 20 lifetime off Marquis, with a 1.000 SLG
Leads the National League in RBI with 34
For the second night in a row, the Astros get off to the fast start, then lose the impetus, having to scratch and claw the rest of the way. Like yesterday, the game was in doubt late, after looking like a comfortbale win early.
Think we'd all hoped before the game that Roy would hand the game directly to Lidge, which just goes to show you should be careful what you wish for.
Though after giving up only four hits but throwing 116 pitches and allowing three homers, it's hard to fault the Astros for going to CloserBrad.
Even with Pujols due up, Roy might have been able to notch the complete game. But it would have seemed like we were trying to shield Lidge from the situation.
For the same kind of reason, it was interesting to see Lidge pitch to Pujols with Rodriguez on second and first base open. The fragile psyche of our closer probably guaranteed that the Garner/Hickey braintrust weren't going to call for the intentional walk, but as the summer goes on, and if Edmonds doesn't pull out of his extended slump, you're gonna start seeing that move made, regardless of the "tying runner" dynamic.
Lidge was more than anything inconsistent in his command. He threw some nasty pitches--Rodriguez, for one, was very lucky to stay alive on the fourth pitch of his sequence. But Lidge also had more than a few pitches refuse to do what he wanted, most notably on the only one he threw to Edmonds, which may as well have been served up on a gilded platter.
I also thought that better hitters than Encarnacion and Spiezio might have made the game even more interesting than it already was.
"But the important thing is Brad got the save," Ausmus told the St. Louis crew, and as you would expect from a Dartmouth graduate, he has cut to the very core of the matter.