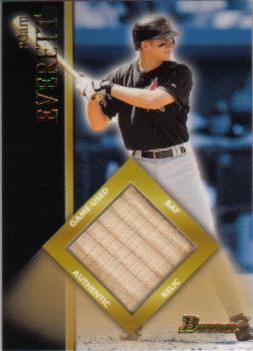 Adam Everett
1 for 3, double, walk, 3 RBI
He didn't do much else, and maybe got a little lucky when Mench appeared flabbergasted that something was hit his way, but you can't say that Adam Everett, with the game obviously on the line, and with no possibility of further deferring the inning's outcome, didn't have a quality at-bat.
Joaquin Benoit seemed absolutely intent on handing the game to the Astros, continuously paring the game down to the one strike he needed, but he was never able to throw it. He had Berkman 0 - 2 before walking him, and after getting the first two outs of the frame, he had Munson 1 - 2, as well. But by the time Everett got to the plate, Benoit had established that he couldn't throw his fastball for a strike. Benoit threw a gutsy offspeed pitch to get it to 3 - 2 on Adam, and had the Rangers' reliever been able to throw a fastball strike after that, he would have had Everett dead to rights. Instead he threw another slow breaking pitch, which Everett was ready for.
Give Everett some credit: when Benoit handed him the game, he ddn't drop it. If Everett as Game Hero is a shaky mix of luck, opportunity and happenstance, isn't that the way it always is?
Win Expectancy Chart
Top Five Astros
Everett
  0.490
Qualls
   0.285
Ausmus
  0.109
Munson
  0.073
Biggio
  0.004

Bottom Four Astros
Taveras
-0.025
Palmeiro
-0.049
Wilson
-0.054
Oswalt
-0.287
 

Top Three Rangers
Matthews, Jr.
  0.244
Young
  0.215
Feldman
  0.086